CEOs' Welcome Address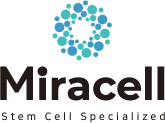 Since beginning the medical business in 1986,
Miracell has grown into a stem cell specialist that respects life and pursues the vision of healthy life for all.
We started our stem cell business in 2009. By continuously engaging in clinical studies with medical experts all over the world, professional academia in Korea and medical crews of university hospitals,
we strive to lead the development of safe and effective treatment methods and upgrade diverse treatment standards.
Miracell held an international conference in Korea, a barren land for stem cell treatment,
in March way back in 2011 and introduced theory of each medical department and demonstrated treatment live in front of approximately
700 medical doctors from Korea and all over the world including a team from Harvard.

The company has introduced bone marrow stem cells, mesenchymal stem cells and hematopoietic stem cells for the first time.
The treatments developed by our team and have been approved by the KFDA and the Ministry of Health and Welfare for myocardial infarction,
critical limb ischemia, restoration of cartilage, synostosis, hair loss, plastic surgery and sexual medicine for broad use in 500 hospitals and clinics nationwide.
The safety and effectiveness of our treatments passed the final deliberation
at the Ministry of Health and Welfare New Medical Technology Appraisal Board and were registered under the Ministry of Health and Welfare Announcement No. 2012-1.

In this era of 100 years' life expectancy, stem cell treatment has a broad range of applications and shorter treatment period, and is already developing into an important factor for increasing life expectancy.
Stem cell treatment has become the hope of medical crews in providing safe treatment and giving an effective cure for diseases to help people live a healthier and happier life.

Miracell will further expand the scope of treatment, and strive to serve as a model company that leads the development of medical industry in Korea by pursuing the motto 'respect life' and abiding by the laws.
We'd like to appreciate the efforts of professors from many university hospitals and private hospital directors for their unstinting support and encouragement.

T hank you.

Hyun-soon Shin, CEO of Miracell Co., Ltd.